6 Business Writing Skills You Need to Master in Sales11 min read
Business Writing
This handout explains principles in business writing that apply to many different situations, from applying for a job to communicating professionally within business relationships. While the examples that are discussed specifically are the application letter and cover letter, this handout also highlights strategies for effective business writing in general.
Business writing refers to professional communication including genres such as policy recommendations, advertisements, press releases, application letters, emails, and memos. Because business writing can take many forms, business writers often consider their purpose, audience, and relationship dynamics to help them make effective stylistic choices. While norms vary depending on the rhetorical situation of the writer, business writers and audiences tend to value writing that communicates effectively, efficiently, and succinctly.
If you have been assigned a genre of business writing for a class, it may help to think about the strategies business writers employ to both gather and produce knowledge. A business communicator or writer may use the following forms of evidence: statistics, exploration of past trends, examples, analogy, comparison, assessment of risk or consequences, or citation of authoritative figures or sources. Your knowledge of and relationship to your audience will help you choose the types of evidence most appropriate to your situation.
Who is your audience?
To communicate effectively, it is critical to consider your audience, their needs, and how you can address all members of your audience effectively. As you prepare to write, think about the following questions:
What are your audience's priorities and expectations?
What does your audience need to learn from your document?
How will you grasp the attention of readers when you are competing for their attention?
How will you help your reader move through your document efficiently? When is it effective to use bulleted lists, visuals, boldface, and section headers to guide your reader's attention?
What does your audience most need to know?
What is your audience expecting? Is your goal to satisfy their expectations, or do you want to surprise them with a new idea?
How will you communicate about setbacks? When is it appropriate to spin bad information with a positive outlook? How will stakeholders, customers, or employees respond to bad news?
In general, how can you tailor the organization and style of your writing to address your audience's considerations and needs?
Title. Is it appropriate to address your audience by their first name, or is a salutation needed? Are you addressing someone who prefers to be addressed by a formal title such as Dr. or Professor? If you are writing about a third party, do you know what title and pronouns to use? When the name of the person you're writing to is unknown, then it is customary to address your letter "To Whom It May Concern." But this may be impolite if the person's name is known or easily discovered. You can find more information on titles, names, and pronouns in our handout on Gender-Inclusive Language.
Language. If you're writing in English, ask yourself: Is English the first language of all your audience members? Are you using idioms or other expressions that might not be clear to someone with a different background in English? For example, are you using expressions that require U.S.-specific cultural knowledge?
What is your purpose?
To get a better sense of how the purpose of your writing will impact your style, it can be useful to look at existing messages and documents from the organization with the following questions in mind:
Why Business Writing Is Important in Sales
Developing strong communication skills will take you a long way in your career, regardless of your current role or industry. A good set of communication skills will give you a foot in the door at many companies, even if you don't have the requisite technical knowledge.
Many employers say they prefer non-technical employees who know how to speak and write appropriately over technically skilled workers. Such employees often find themselves stumped when asked to make a presentation to a client.
Many successful salespeople start with a background in communications. They tend to know what exactly people want to hear or read and can produce content that responds to people's concerns.
Clarity
When you know how to explain your product's features and how they can help your customers, they can see the value in your offering. On the other hand, a disorganized piece of content is subject to misinterpretation, which is a dealbreaker when it comes to sales.
Career impact
When you write well, your readers will be more receptive to you. When you know that your customers, managers, and colleagues read and understand your work, it makes you more confident in your abilities. Your colleagues will stop thinking of you as that person in Sales who happens to write well; instead, they'll think of you as that person who closes deals and brings in revenue.
When you prove your capability as a writer, your colleagues and even your superiors are more likely to ask for your help with drafting different documents. This gives you the internal visibility you need to move up in your organization.
Thought leadership
Whether you're selling something or supporting sales activities in the back office, good writing skills always come in handy. People trust those who express themselves well, and effective business writing is all about expressing your thoughts clearly and intelligently.
You don't need a very extensive vocabulary or write like Shakespeare to look or sound intelligent. The most intelligent writers are those who can explain complicated concepts in the simplest possible terms. The ability to distill complex concepts and present them in a manner that's easy to understand is a sign that you know your topics inside and out.
Online presence and influence on readers
Nowadays, business travel has lessened, and customers are hesitant about meeting service providers face-to-face. As a result, many customers initially find the solutions they need through blogs and company websites.
Business writing is all about influencing your readers. Many people who read what you've written are either unaware of or apathetic about your brand. Knowing how to write properly will convince your reader that they need to give your products or services a try.
Writing effective taglines and calls-to-action will help you influence your readers into taking your desired course of action. That might mean clicking on the button for a free 15-day trial.
Nine business writing tips to improve your skills
1. Identify your primary goal in business communications
Before approaching any kind of business writing exercise, you have to know what you want to say. Sometimes your key point will be obvious, but other times, it will require some thought.
Either way, setting a primary goal is an important first step for gathering your thoughts into a coherent message. And it's a major component to successful business communication and writing in general. If you're clear about your primary objective, you can more easily stick to that point, avoid going off on tangents, and get your message across in a way that's easily digested by the reader.
One way to quickly ascertain your goal is to sum up the purpose of your message in a single sentence. If it's extremely short or can't be contained in a single sentence, you may need to consider alternative methods, like a quick conversation or breaking up your content into more than one email.
2. Focus on your readers' needs and professional goals
Your audience will dictate so much of how your message is conveyed, so you must understand who they are and what they need. Good writers focus on their audiences' needs and wants rather than their own. That way, the reader has something to grab hold of, and act on, if that's the goal.
If you're writing an email to an employee about third-quarter business goals, the part they play in moving the company forward will be most relevant. In that situation, however, it would be easy to provide more context than is necessary. But providing too much information can make for a lengthy and less effective piece of writing that requires the reader to dig through the information that may not be relevant to them.
On the other hand, if you're writing to a customer or client, you should aim to answer their questions about your product or service so that they can make an informed decision. Providing valuable context can mean the difference between a quick "yes" or a slow, drawn-out conversation that fades away. The easier you can make things for your reader in your own writing, the more inclined they'll be to help you accomplish your business goals.
3. Cut to the chase in business writing: Focus on clarity over quantity
Clarity is easily muddled when it comes to the written word, but there are a few ways to easily and quickly address this aspect of business and professional writing (same goes for your personal writing too).
Avoid jargon and overusing acronyms
Jargon can easily creep into both your business writing style. And while it can make conversations a bit faster when speaking with others who are well-versed in your field, business jargon can create confusion with those who aren't. Again, you have to be aware of whom you're talking to, and make a judgment call. If you're writing for someone new to your industry, use words that have a clear, universal meaning.
Shorten and simplify sentences
For better business writing, edit the length of your sentences to hone the clarity of your business communications. For example, you may write "as a result" when "because" is just as accurate. Keeping each sentence to one idea can also help you avoid confusing the reader with run-ons or convoluted compound sentences.
While you're at it, be sure to look for holes in the context or message — like places where you took a logical leap, or forgot to include information about how something is relevant to the main topic. That way, each sentence and paragraph can support the others in creating a coherent message.
4. Streamline structure and organization
Sometimes it's difficult to know where to begin with business communications, especially if you've got pages and multiple decks of business research, analysis, and creative ideas. In general, it's best to focus on a primary idea or topic. This prioritization helps you set expectations for the reader and get to the point without delay.
As a baseline, you should include things like transitions from paragraph to paragraph, or sentence to sentence, to make the words themselves flow more easily. You'll want to take a top-line approach to the organization, too, if you want your words to be more absorbable.
Break a lengthy email or document into smaller sections
Just as we're doing in this blog post, we suggest organizing business writing into sections with subheadings and highlights of important information. Include formatting such as line breaks, headers, and short paragraphs to make lengthy copy scannable.
Visually friendly formatting is especially important when you're talking to someone who doesn't necessarily have to listen to you, like a prospective client who may not have a lot of time to devote to reading emails.
5. Fine-tune your tone and business writing style
Your style and tone in writing dictate how your readers feel. A professional and friendly voice helps foster a sense of congeniality between yourself and your clients and coworkers.
Five business writing examples
1. Marketing content
If you're new to content marketing, you may need to spend time developing new skills in writing persuasive, relevant, and clear content. A key element is understanding your audience: you need to write content that resonates with them, e.g. offering solutions to their problems or insight they can't get anywhere else.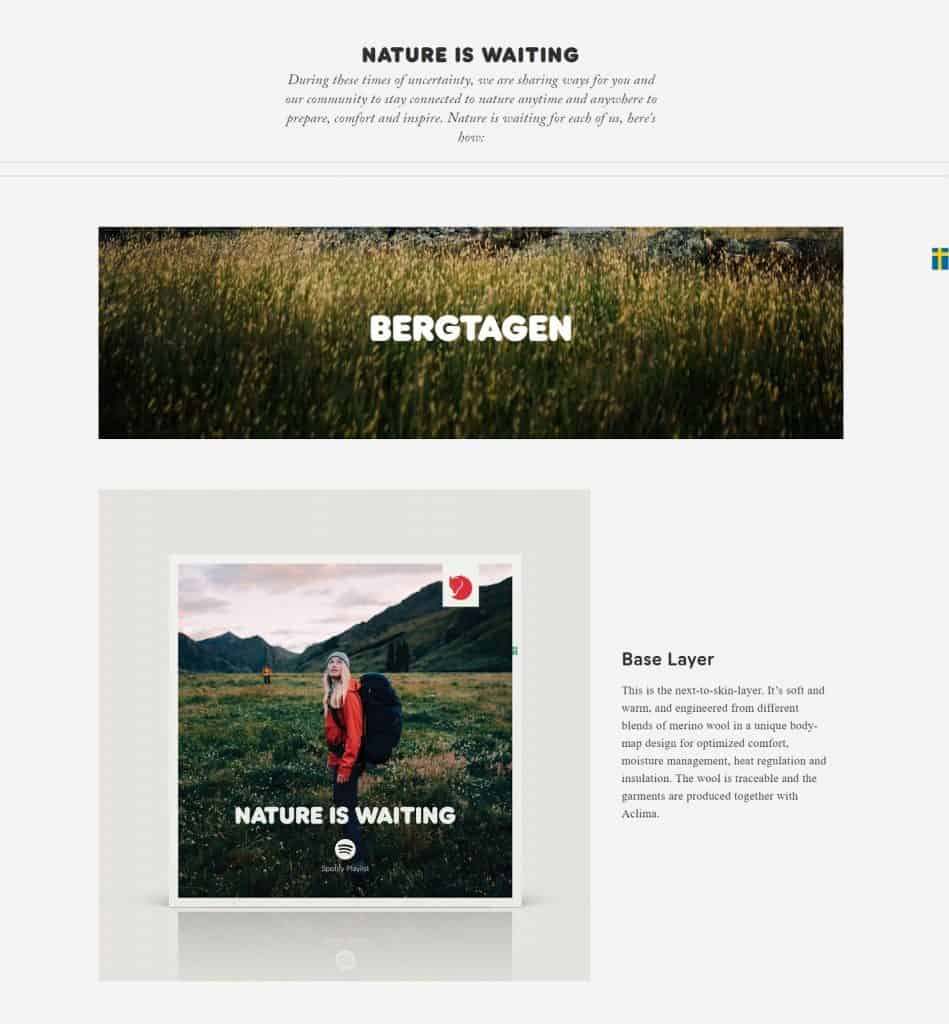 Active voice in the main headline creates a sense of urgency for outdoor enthusiasts, encouraging them to explore nature. This is directly linked to the company's products – you can't explore the great outdoors without proper gear – which has been conveniently placed on the landing page so customers can shop straight away.
2. Help center
Picture this: a customer wants to use your product but they have a question that's holding them back. They search for a FAQ or help center but you don't have one. Thus, the customer journey ends because they can't get the information they need to move forward.
Avoid losing customers with a well-written, user-friendly help center. They save your existing customers time from calling or emailing you. Instead, customers can find the answer to their problem in a few clicks.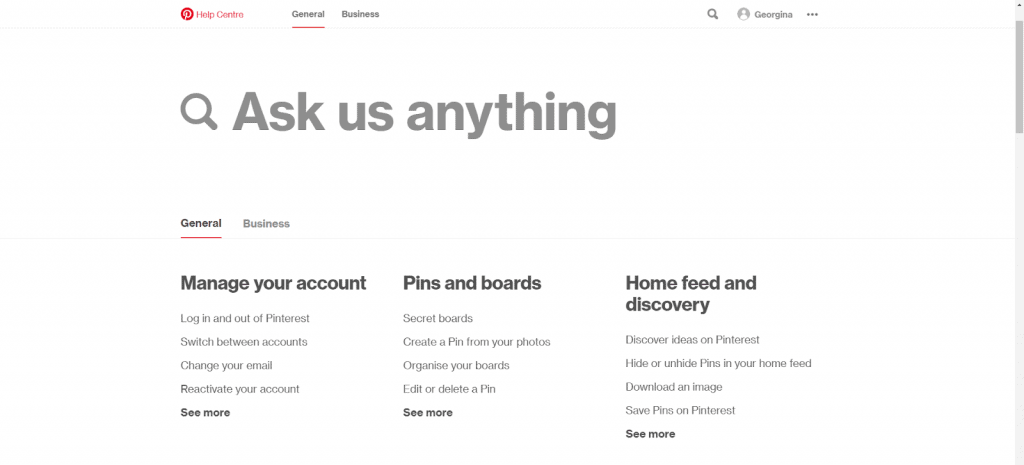 The 'Ask us anything' search box creates a friendly tone that encourages the customer to seek help for their problems. The headings are concise and use keywords and a clear structure to make navigating to the right solution effortless.
3. Product content
A delightful onboarding experience makes new customers feel like they made the right choice by doing business with you. It also improves customer retention and lifetime value — and if there's one thing we know about business, happy customers become your top referral source.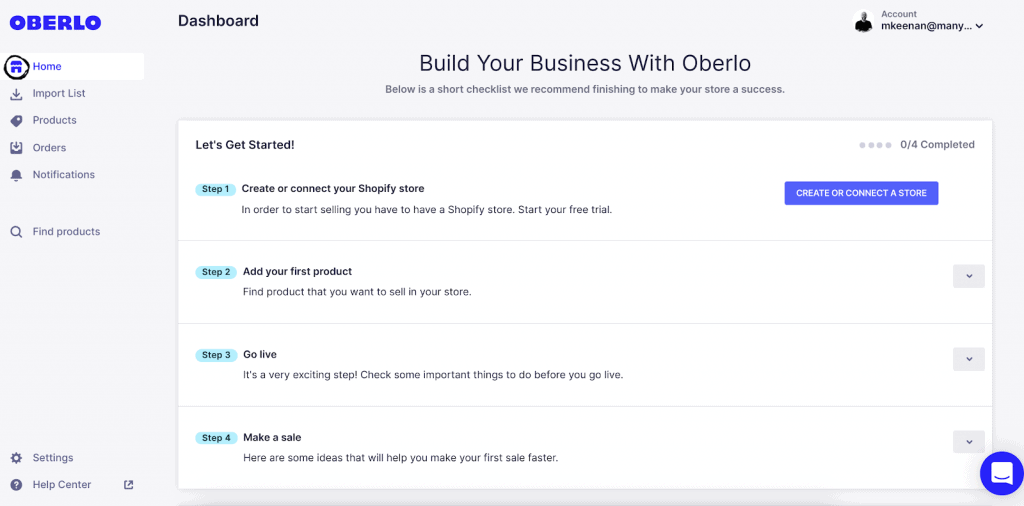 Oberlo breaks everything down and distributes the information slowly. Only asking new users to accomplish one task at a time and providing straightforward instructions on how to achieve it. Use your words to guide your customers every step of the way.
4. Emails
With business writing, emails count too. Problem is, a lot of people don't bother to proofread a quick email they send to a colleague or client. A few grammar and spelling mistakes never hurt anyone, right?
Wrong. It all counts towards the way you're perceived as a professional. If you want clients, customers or colleagues to view you as competent, considerate, and businesslike, your emails (or business letters) need to be quality pieces of writing.
When writing business emails, use short and simple sentences to make your writing easy to digest. Busy professionals will most likely scan emails when they're short on time. Make sure there are no grammar errors or spelling mistakes. And give the recipient clear instructions on what to do next, whether it's responding to a proposal, booking a call, etc.
5. Press releases
If you have a new product or service in the works, you might want to write a press release to get the word out there. They need to be well-targeted with a newsworthy headline, a summary of the news in the opening paragraph, and a compelling quote. They are usually written in the third-person.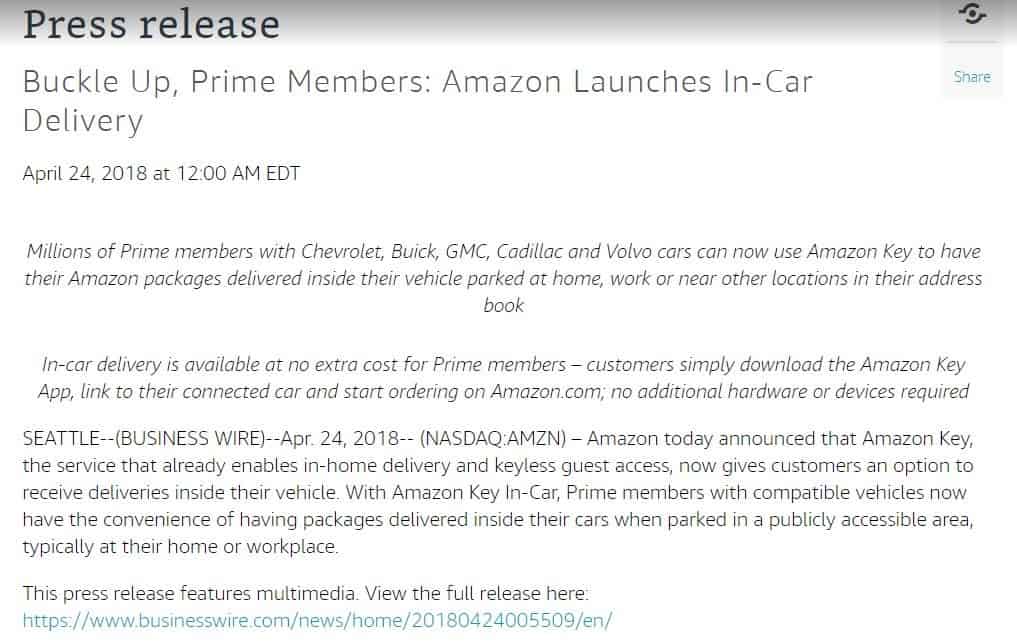 This is a great example of persuasive business writing. Amazon starts with an eye-catching headline that summarizes the story. Then clearly identifies the core product benefits and how it helps its customers. If you read the full press release, you'll notice they also use testimonials from a customer who was given early access to the service—a great way to show the product works.
As a business writing exercise, write your own press release using these different narrative devices.It can be on unicorns or UFOs, the idea is to practice. Once you've finished your first draft, check to see if you've followed the correct hierarchy of information.
Sources:
https://writingcenter.unc.edu/tips-and-tools/business-letters/
https://autoklose.com/business-writing-skills/
https://writer.com/blog/improve-business-writing-style/